Take advantage of this unique opportunity to train to be a professional image consultant in the heart of some of the most exciting cities around the world!
The Foundation Course offers substantial, practical knowledge that will allow you to make an immediate impact on the appearance of individual clients. The scope of training includes modules in color theory and an introduction to color analysis, style building, advanced principles, body and line analysis, menswear, shopping, wardrobe strategies and makeup. In addition, you will learn client communication skills, fee structures and best practices to become a successful image consultant.
Our Foundation Course differentiates you as a certified image consultant from a fashion stylist, store associate, makeup artist or fashion house representative.
You will acquire the ability to critique individuals and execute one-on-one consultations effectively and professionally.
After the course, many graduates have developed an image business for individual clients or combined image with other areas of expertise such as career and life skills coaching, etiquette, makeup, skincare, hairstyling, wedding planning, medical and weight loss clinics and counseling, among others.
The high-caliber, hands-on coaching, mentoring and individual attention you receive, reinforces the benefit of the group experience. You simply cannot get this kind of training in books or on-line. This is a fantastic opportunity if you want to gain a competitive edge as a professional image consultant.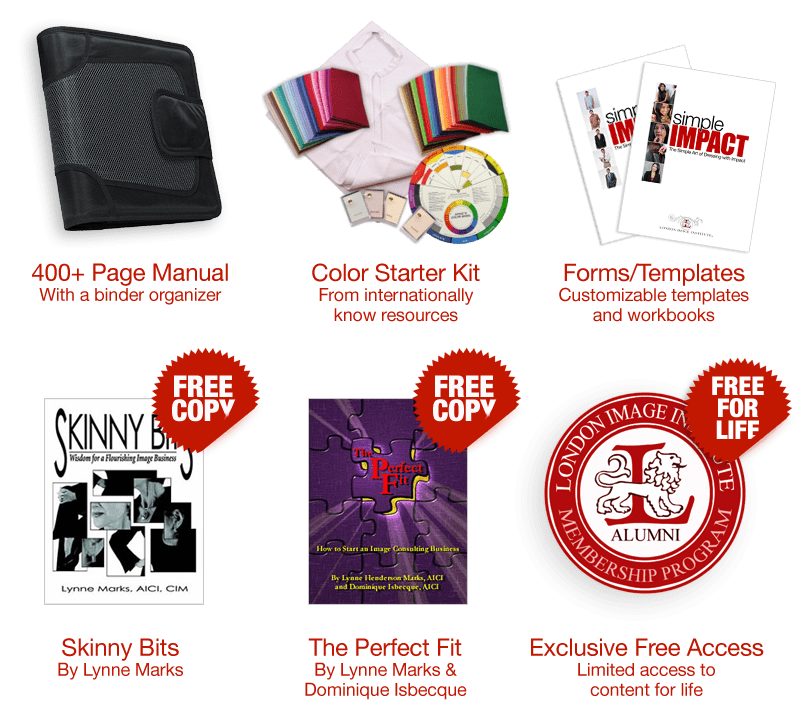 ALL FOUNDATION COURSES INCLUDE:
Consulting methods to work with individuals on color theory, an introduction to color analysis and draping techniques.
Evaluation of several color systems and help with selection of one to match your level of expertise.
Assigned materials, customized questionnaires and workbook pages for style analysis and fashion personality profiling for you to use after the course.
Systems and methods to teach body analysis.
Solutions for figure challenges, techniques to teach fit and alterations.
Instruction and practice on wardrobe strategies and wardrobe analysis.
Opportunities to practice on real clients or class participants.
An introduction to professional shopping methods.
Instruction on image terms, communication, critiquing and consulting skills.
Preparation for AICI's Certified Image Consultant (CIC) examination with some extra recommended reading.
Included in the course are a full color starter kit for individual color consultations, style boards, a client workbook template and a very large reference manual.
* The 8-day ImageAsia® Training Course includes additional color analysis training.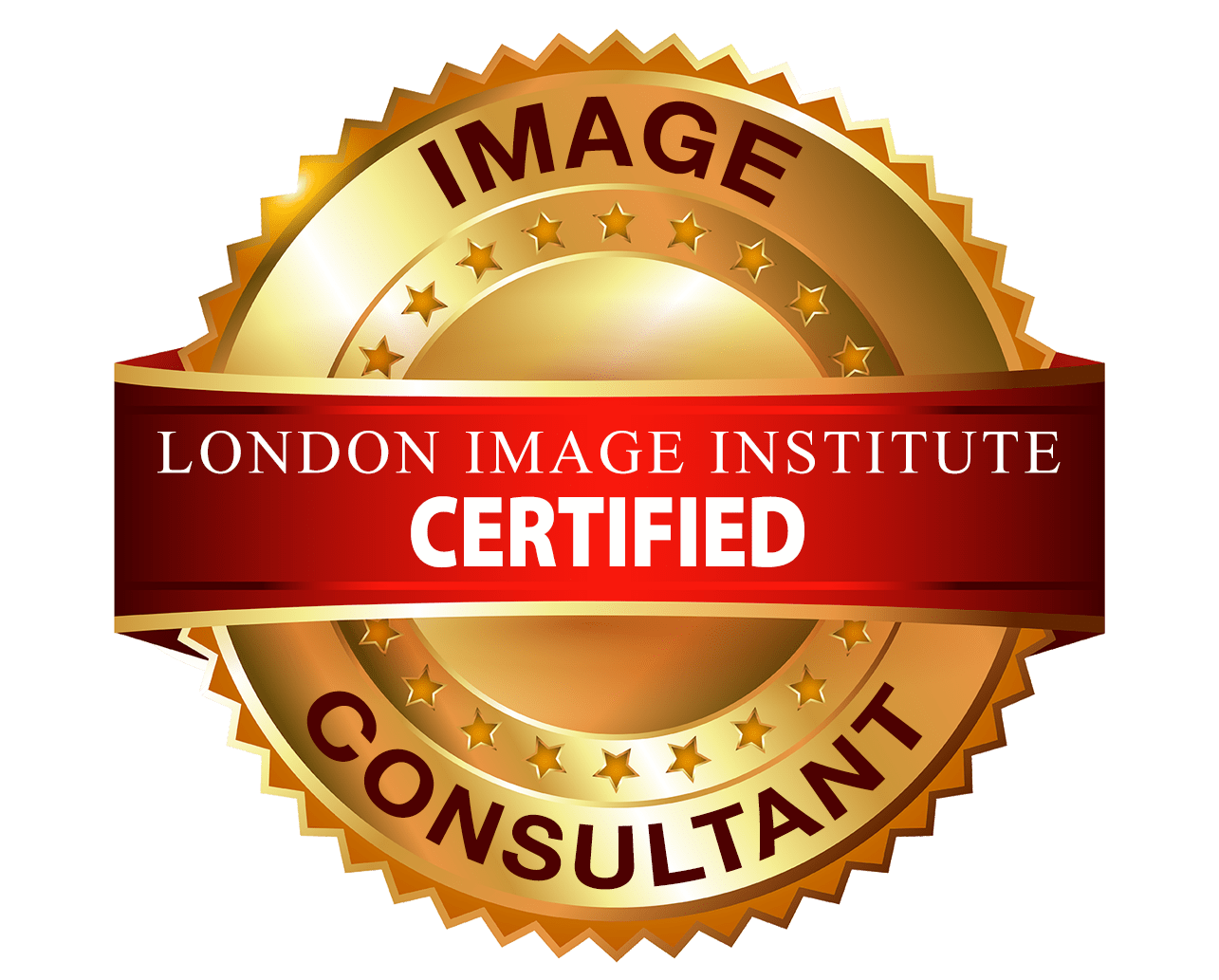 The US Foundation Course Certificate of Completion is given by London Image Institute
The UK Foundation Course Certificate of Completion is given by London Image Institute
ImageAsia® Image Essentials Course Certificate of Completion is given by Academy of Image Mastery, Asia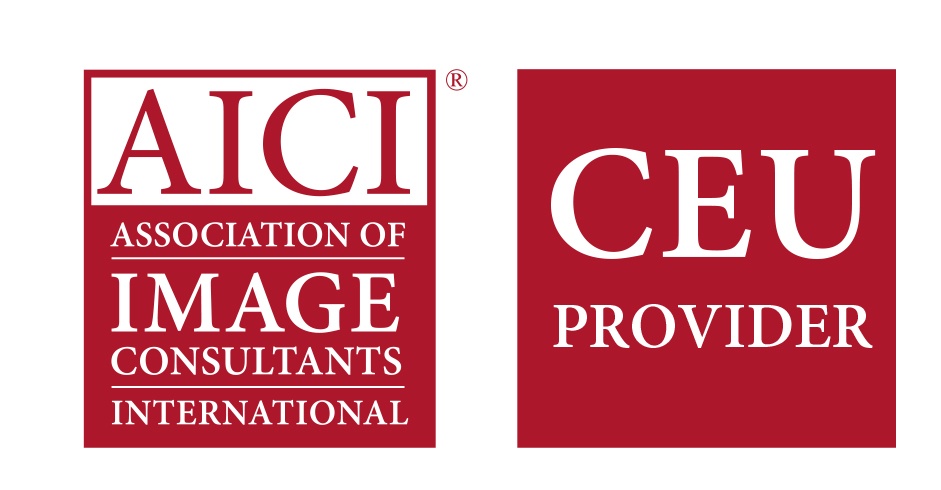 * Qualified AICI members can receive 5.0 AICI CEU's for completing this course.
* Please note that this course is accredited by the Association of Image Consultants International (AICI). Certification earned through London Image Institute upon completion of this course is entirely independent from AICI's certification programs. If you wish to pursue AICI certification, please refer to AICI's website. http://www.aici.org/
Training Locations
Atlanta: Training is conducted in the Atlanta suburb of Dunwoody, GA which is approximately 30 minutes from Atlanta Hartsfield-Jackson International Airport by taxi or 1-hour by train. Click here for a map
London: Training is conducted just outside London in Henley-on-Thames, Oxfordshire, UK which is approximately 30 minutes from London's Heathrow International Airport by taxi or 1-hour 15 minutes by train. Click here for a map
"Amazing, amazing, amazing! I thought that this would be just a training course on advanced image information. It was actually a total process in transforming people from the inside out. I have always wanted to make a difference, now I can deliver."
Janet Morehead

As a graduate of the London Image Institute Foundation Course, you get a FREE Membership in the exclusive London Image Institute Alumni Membership Program containing small group presentation topics, downloadable client workbooks, templates and other client materials. This is only available to graduates of London Image Institute courses and comes with some amazing benefits.
FREE ACCESS FOR LIFE!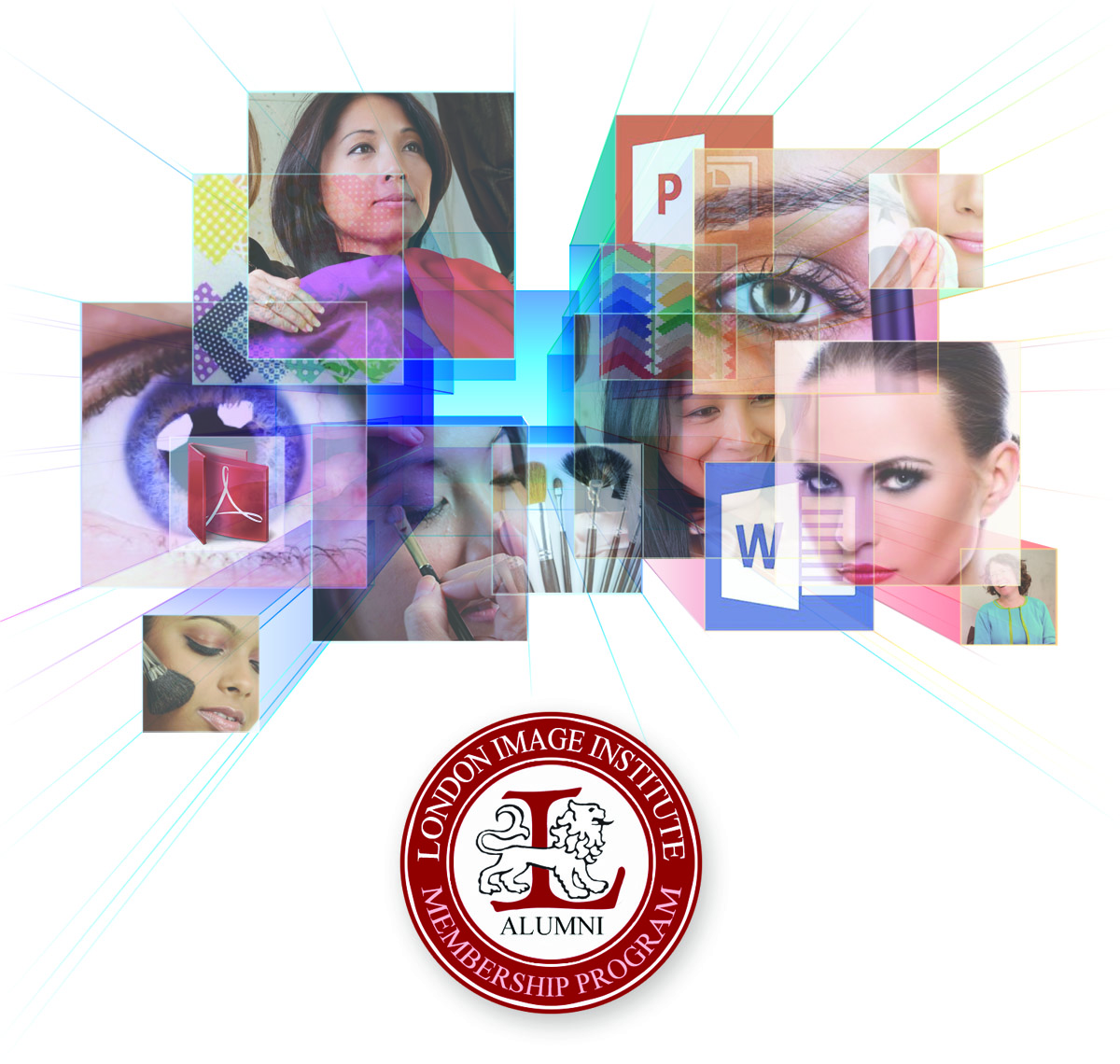 This graduate support site is continually updated with fresh new slide presentations, photography, workbooks, and client & business forms for you to use in your image consulting practice. This type of on-going support cannot be found anywhere else.
Take a look for yourself and see what you get with your membership. Just click below to take the tour!
PRIVATE COACHING OPPORTUNITY
The second exclusive bonus afforded to you as a London Image Instititue graduate is the opportunity to work as a private client with Sarah Hathorn, AICI CIM, CPBS of Hathorn Consulting Group and Illustra Business Coaching. Sarah is one of only a few Certified Image Masters in the world.
You may choose from one of her three private business coaching programs and receive a substantial 20% discount * just because you are a graduate of London Image Institute.
Working with Sarah right after you graduate from the London Image Institute and continuing to learn from an image master will help you catapult your image consulting business to the next level in record time. It will turn the 5-year head start you already have by graduating from the London image Institute into a 10-year head start on all of your competition!
Sarah's private coaching will help you learn how to set higher fees without alienating clients, create packages that grab the attention of clients and sell, and how to carve out and establish your own unique and special niche within the industry.
* You must sign up for one of the business coaching programs within a specific time period after the course in order to receive the special pricing.
Read what some graduates who have coached with Sarah said…
"Despite the fact that I have nearly 20 years of business experience, working with Sarah made me recognize my greater potential for attracting clients and taking action. She has an incredible depth and breadth of knowledge and experience and is generous about sharing whatever tools and methods have worked for her. She also strives very hard to add value for her clients. She inspired and motivated me to believe in my own success, stretch my boundaries, and accomplish more with greater confidence. What more could you possibly ask of a mentor and coach? Sarah's the best and I enthusiastically recommend her."
Ale Marroquin, AICI CIP, Mexico City, Mexico
"I also learned a huge amount about marketing strategies, how to sell my products, how to bring new clients on board, and how to work with clients virtually and efficiently. Sarah showed me what to do to stay competitive, keep my clients returning for more, and what to do to gain ongoing referrals. She also helped me fill out my brand's bandwidth with tips on blogging, writing articles, and leveraging social media to network and spread the word about my products and services. That included help from her business partner and husband Marc who advised me on my logo, business card, and website designs.
I also learned a huge amount Because of the dedication and support she showed me as my mentor and coach I will recommend Sarah any time. All thanks to Sarah and Marc!"
Morenike Tunde-Idowu, Toronto, Canada
Sarah's background & credentials
Sarah Hathorn is a Certified Image Master, the founding CEO of Hathorn Consulting Group, Illustra Business Coaching & Illustra Business School and creator of the Predictable Promotion™ system, began her image consulting career as an industry pioneer and innovator. Sarah is one of the first and only image and brand consultants in the world, for example, to enter the profession with a background as a senior level executive in the fashion industry.
She spent more than 25 years in that role at Macy's, a Fortune 100 company, were she was responsible for developing leaders at all levels of the organization. Many of her protégés are now in top-level executive positions for Macy's and other major corporations, so she has the hands-on experience and skills necessary to mentor any motivated high-achiever who wishes to expand her business, attract a more elite clientele, or even grow an independent entrepreneurial empire.
Sarah works primarily with Fortune 500 leaders but also offers her intensive mentoring and coaching programs to fellow image and brand professionals as a way to pursue her own personal passion while helping to empower those within her own business community and industry niche.
Credentials:
Achieved CIM (Certified Image Master) status in record time
Achieved CIP (Certified Image Professional) status in record time
Master Trainer of Image Consulting and Corporate Professional Development, London Image Institute & ImageAsia®
Certified Color Analyst, Sci-Art Company
Professional Keynote Speaker for the National Speakers Association
Certified Personal Brand Strategist, Reach
Certified 360º Reach Analyst, Reach
Certified Online Identity Strategist, Reach.
International Corporate Professional Development Program Leader
Former President of the Atlanta Chapter of Association of Image Consultants International
Guest Speaker at the Linkage Women In Leadership Global Summit October 2010
2008-2009 Alumni, Leadership Gwinnett Program
1997-1998 Graduate, Federated Leadership Institute
BA in Business Administration – Otterbein University
Are you ready to begin your training at the London Image Institute? Do you have more questions? Get answers to some of our more frequently asked questions here FAQ page.
Are you a military spouse? The Department of Defense has a program that will allow you to get help for your training. Click here for more information.
Call (404) 255-0009 TO START YOUR TRAINING